11 August 2020
A 'Nation of Huggers' – Millennials far more likely to want physical contact when grieving than any other age group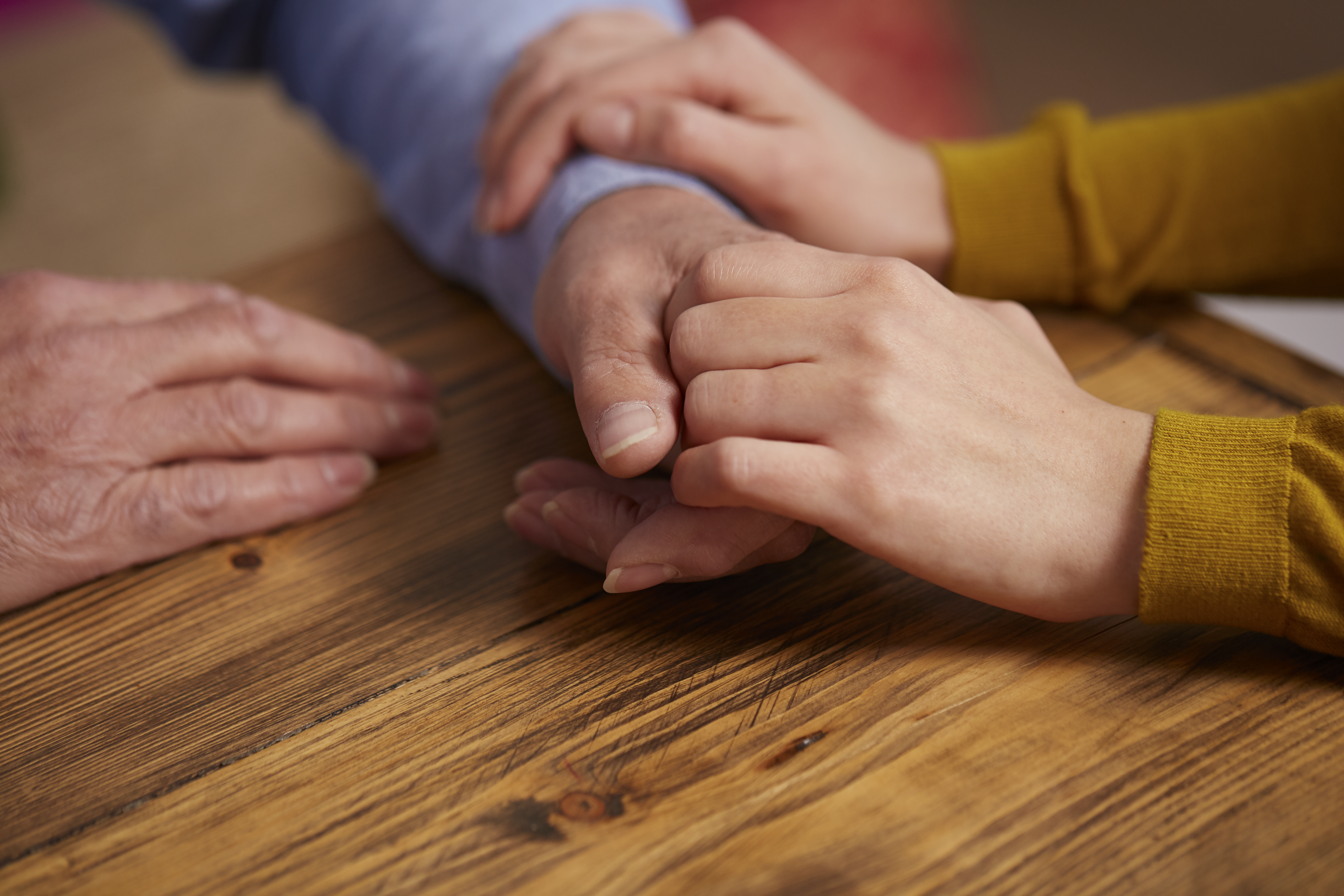 Research from Co-op Funeralcare reports 59% of those who have lost a loved one during lockdown have had their grieving process negatively impacted due to restrictions
But when overcoming the trauma, there is also a generational difference for how mourners find solace
Millennials (18-24-year olds) are more likely to want a hug and physical contact than any other age bracket, whilst Baby Boomers, (55+) are the most resilient generation following a bereavement
Research from Co-op Funeralcare estimates 9.7 million mourners have been denied the opportunity to say their last goodbye at their loved one's funeral and the UK could soon be heading towards a 'grief pandemic'
Co-op has released a report, which reveals the devastating impact lockdown has had on the nation's ability to grieve and warns of a possible grief pandemic.
The online YouGov survey, commissioned by the UK's leading funeral provider Co-op Funeralcare, shows that in the weeks following the start of the UK's lockdown on 23rd March, 47% of bereaved adults have been denied their final farewell .
When asked about losing a loved one, the stats also reveal a generational gap to grieving. 18-24-years olds were most isolated in their grief and felt having a hug was the most comforting thing that someone did for them during lockdown (21%), whereas those in the country aged 55+ were more likely to be most comforted by a phone call (19%).
Research found Baby Boomers to be the most resilient generation following a bereavement, with the lockdown not affecting those aged 55 and over's ability to grieve in any particular way, (55+, 31%), compared to their younger counterparts (20%). Only a fifth of 18-24-year olds were able to be with their loved ones at this difficult time.
Although a necessary measure to protect our nation during the coronavirus pandemic, the restrictions on the number of funeral attendees left many unable to attend their loved one's funeral, with some councils in the country prohibiting any attendees at crematoriums and gravesides.
Funerals play an intrinsic part in the grieving process, and by being unable to attend, many have been unable to grieve the loss of their loved one. The survey revealed that 37% of mourners have been unable to pay their respects by attending a funeral service, whilst 45% of people said the funeral went ahead, or will go ahead, with restricted attendance in person only.
A harrowing estimate of more than 133,000 bereaved families who have lost a loved one during lockdown said their grief process has been negatively affected by the restrictions in place, with over three fifths (61%) saying that nothing in particular has helped them to grieve during this time. This inability to grieve at present means the nation could experience a prolonged period of mourning for months, or even years, to come.
David Collingwood, Director of Funerals at Co-op Funeralcare said: "Tragically the scale of loss we've seen in the UK from the pandemic will have a huge impact on the nation as we come to terms with our grief. From our research, it's been particularly saddening to see the figures behind this, its sheer scale and how it has affected different generations across the country.

"A funeral provides a sense of closure for bereaved families and is often the start of the grieving process. The recent funeral restrictions have meant nearly a quarter of a million bereaved families across the UK have been denied the right to say goodbye to loved ones in the way they would have wished.

"With technology dominating many of our lives, and especially that of Millennials and Generation Z's, it was surprising to see 18-24-year olds were most isolated in their grief, whereas those aged 55+ were content with just a phone call. But as only a fifth of 18-24-year olds have been able to be with loved ones at this difficult time, it's no surprise that they've longed for that physical support from friends and family.

"It's interesting to see that Baby Boomers have been the most resilient of the generations when it comes to talking about and overcoming grief, whilst their younger counterparts felt they needed more support. When in times of crisis, such as now, I think the different generations could learn a lot from one another."
Malin Andersson, former Love Island star and Mental Health advocate, spoke to the Co-op in a recent podcast, In It Together, brought to you by Co-op, which is hosted by Yasmin Evans. In an episode called 'Saying goodbye: why is it so hard to talk about death?', which goes live later today, they talk about the loss experienced in her life and how she uses her experiences to enable young people to open up about theirs.
Malin said: "When you lose someone in your life, it changes you as a person, you grow, you adapt, but you definitely know it's there, you certainly see life differently.

"For me, grieving is up and down, it's not a linear thing. Some days I can be okay and some days I'll just want to cry. My dad died when I was one, but I still think about him often, even though we've never met. But it's far more regular for my mum and my daughter, as they died much more recently.

"I used to wallow in self-pity, with a "why me" victim mentality, but the more I delved into that, the more of a problem it became.

"If I could give any advice, it would be to allow yourself to go through the emotions, let yourself feel the sadness and don't try to numb your pain. You should also try to reach out to friends, family and even bereavement groups, to make the most of the resources available. Talk about the death as much as you need, the grief and your feelings."
To view the Nation in Mourning report please visit: https://www.coop.co.uk/funeralcare/nationinmourning
The 'In It Together, brought to you by Co-op' podcast series can be found at https://www.coop.co.uk/podcast
Note to editors:
Research was commissioned by YouGov and took place between 7th and 13th May 2020 Research was conducted with a total sample of 9551 UK adults, with 2008 respondents having experienced a bereavement during lockdown, and 9% stating a bereavement was due to coronavirus. The survey was carried out online. The figures have been weighted and are representative of all UK adults (aged 18+).
For further information, please contact:
Sarah Jane Thoms / sarahjane.thoms@coop.co.uk / 07890 384 552
Vikki McCrindle/ vikki.mccrindle@coop.co.uk / 07773 096 868
Lauren Pogson / lauren.pogson@coop.co.uk / 07702 505 626
Follow us @CoopUKpress on Twitter and Instagram
About the Co-op
The Co-op is one of the world's largest consumer co-operatives with interests across food, funerals, insurance, legal services and health. It has a clear purpose of championing a better way of doing business for you and your communities.
Owned by millions of UK consumers, the Co-op operates 2,600 food stores, over 1,000 funeral homes and it provides products to over 5,100 other stores, including those run by independent co-operative societies and through its wholesale business, Nisa Retail Limited. It has more than 63,000 colleagues and an annual revenue of over £10 billion.